Ready to get started?
Let's talk! Our team of experts can help you clarify your needs and propose the most suitable solutions for you to successfully complete your mission.
Explorer
.
Versatility at its finest.
Years of research for a unique product.
The Explorer is the first compact, versatile and long range platform on the market. It is the culmination of several years of research and development done by YellowScan, while closely working alongside customers and partners from around the world.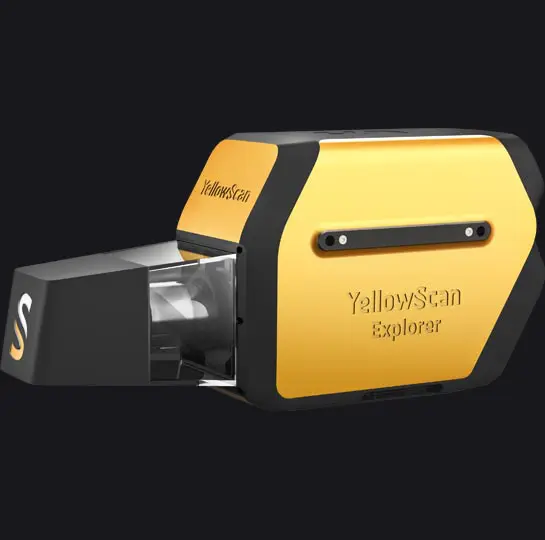 Specifications
Key figures
System precision
2.6cm
1"
System accuracy
2.2cm
0.8"
Battery weight excl.
2.3kg
5.1lbs
View detailed characteristics
Precision

2.6 cm

Accuracy

2.2 cm

Typ. flight speed

5-35 m/s

Typ. AGL altitude

300 m

Range

Up to 600 m

Scanner

Confidential

GNSS-Inertial solution

Applanix APX-20 UAV

Echoes per shot

Up to 5

Shots per second

Up to 500k

Scanning frequency

Up to 165 Hz

Weight

2.6 kg (5.7 lbs) battery incl.

Size

L 32.8 x W 12.2 x H 15.6 cm

Autonomy

1.3 hour typ.

Power consumption

50 W

Operating temperature

-20 to +40 °C
A variety of mission profiles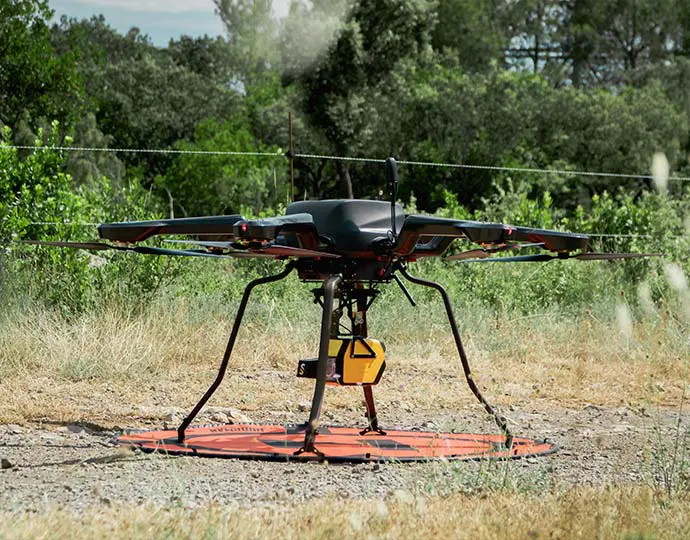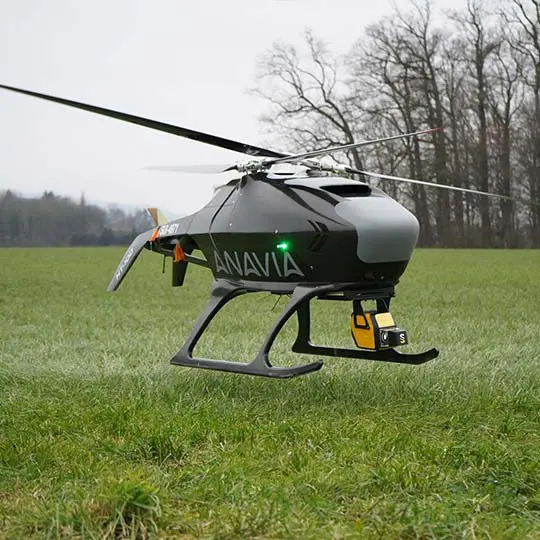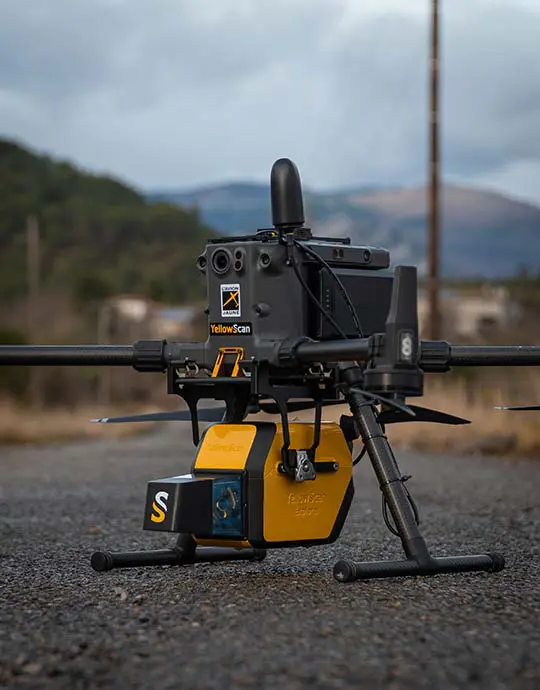 Hardware
Multi-platform adaptability
Complete more mission profiles with this compact LiDAR solution that can be mounted on light manned aircraft, helicopters or UAV platforms.
View the integrations list
Multirotor
Fixed-wings
Light manned aircraft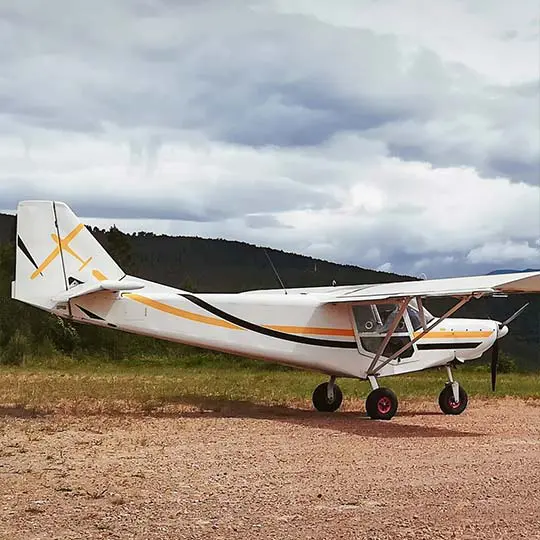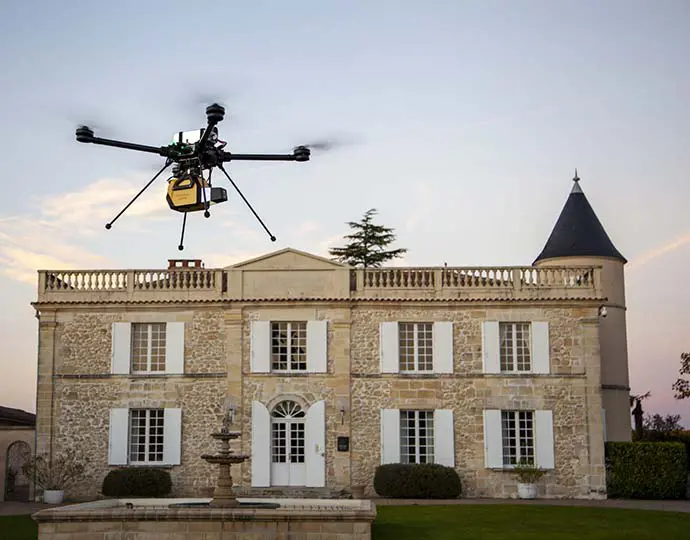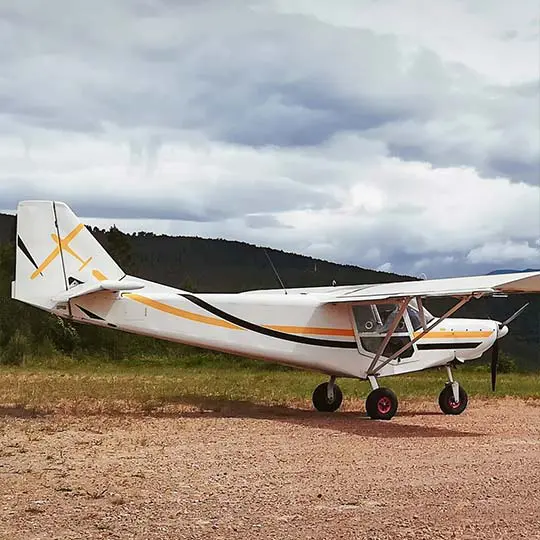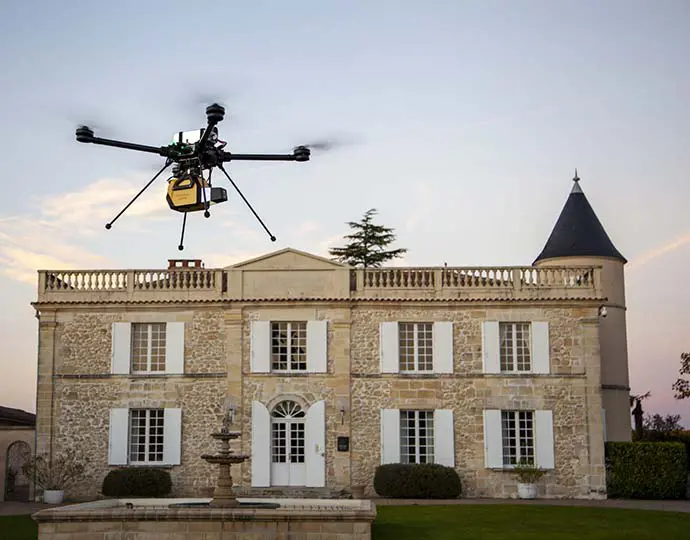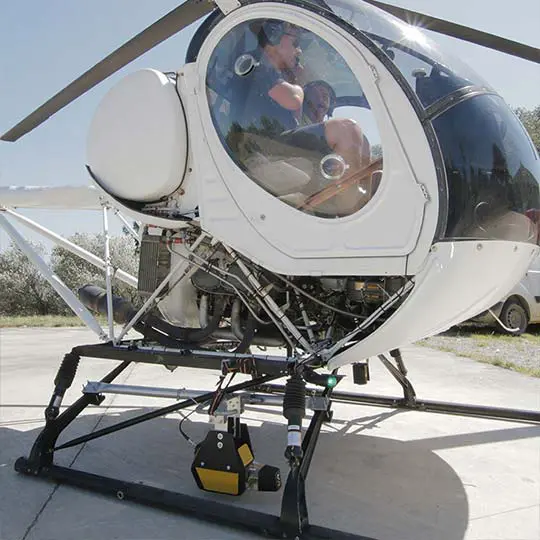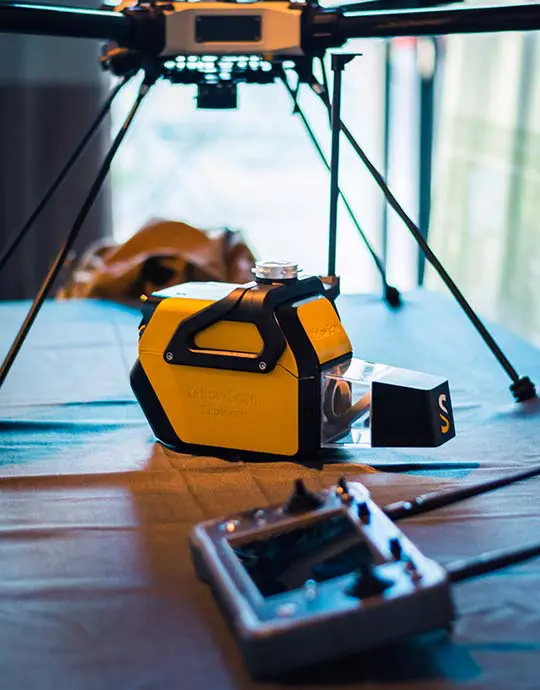 Accessories
So, what's included ?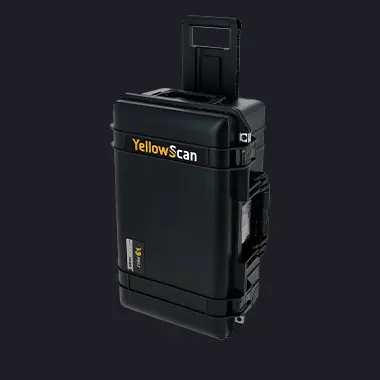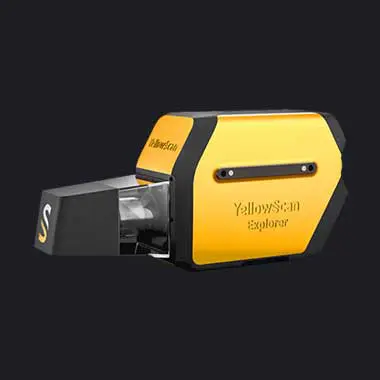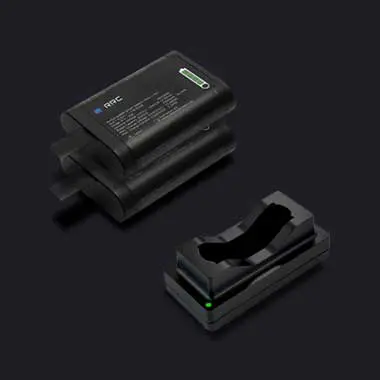 2 batteries + 1 Charger
RRC 2040 - 10.80V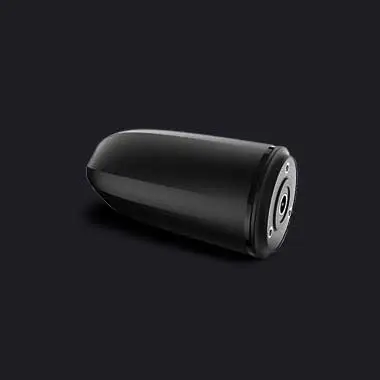 1 GNSS Antenna AV18
2km range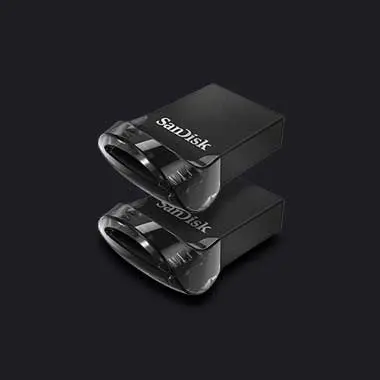 2 USB keys
Sandisk 2to x2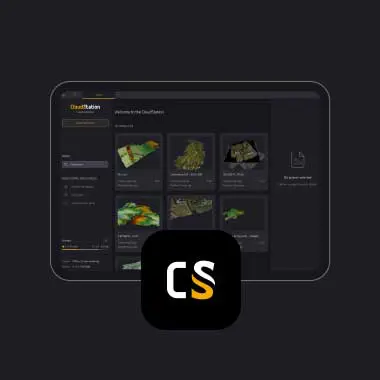 YellowScan CloudStation
1 licence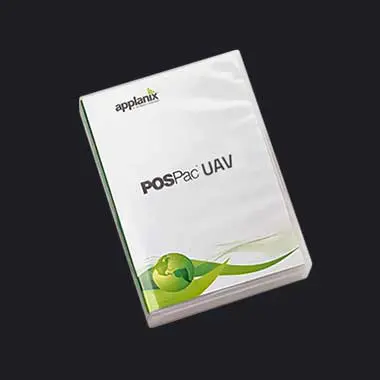 Applanix POSPAC UAV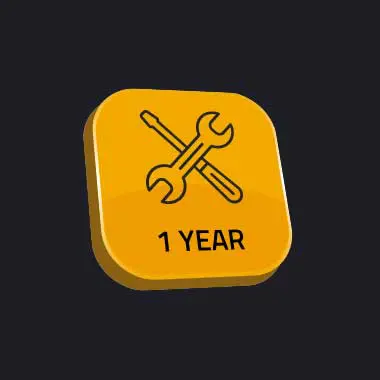 Technical support
1-year unlimite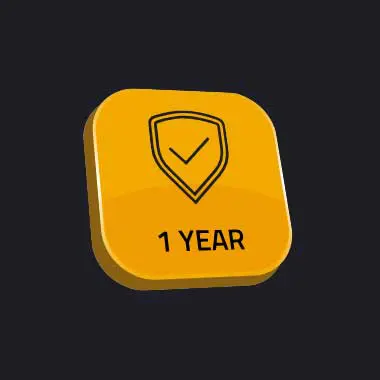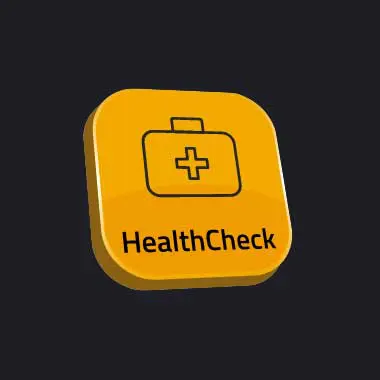 1 Remote healthcheck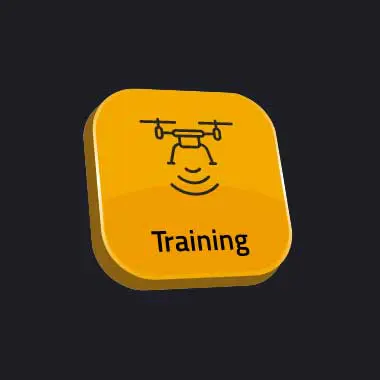 In-person or online training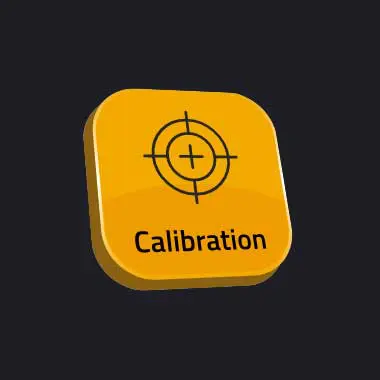 Boresight calibration certificate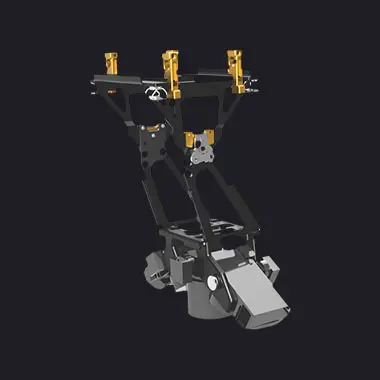 1 Mounting Bracket Dual
with dual Sony α6000 camera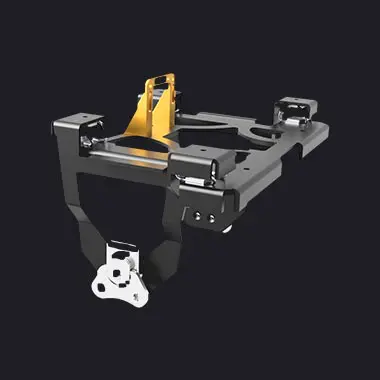 1 Mounting Bracket
for DJI M300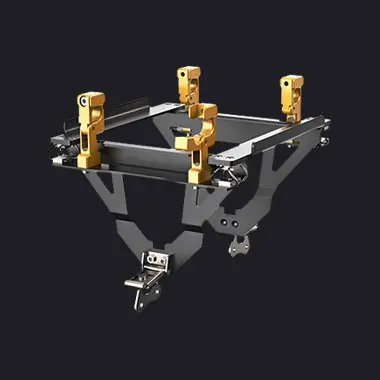 1 Mounting Bracket
for DJI M600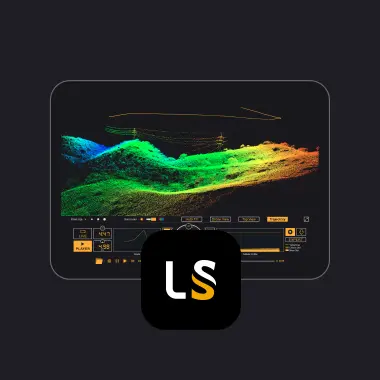 YellowScan LiveStation
1 licence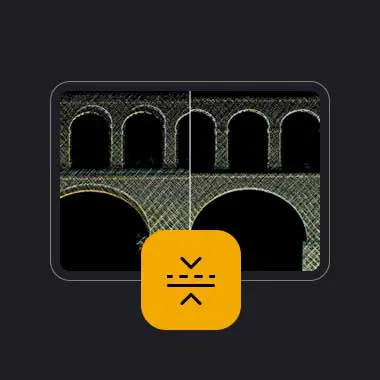 Strip Adjustment module
for CloudStation software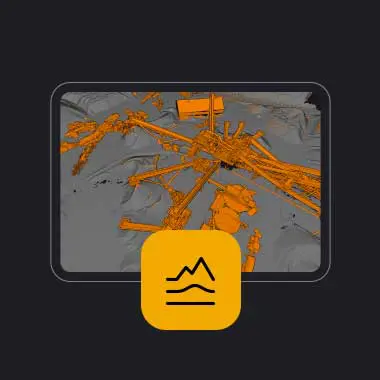 Terrain module
for CloudStation software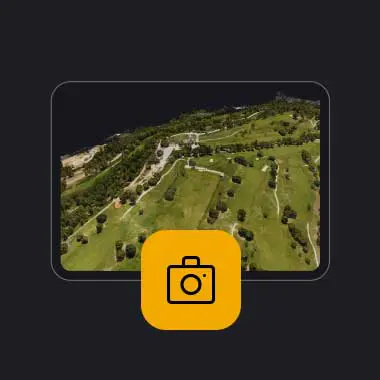 Colorization module
for CloudStation software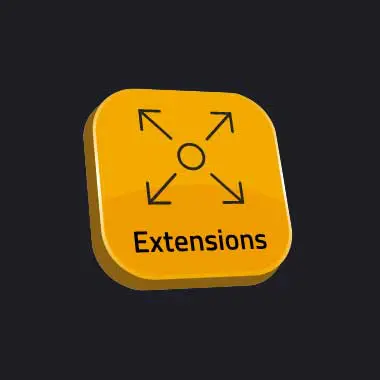 Extentions
Warranty and technical support extensions
Make your life easier
Invest in productivity-enhancing modules that will simplify your workflow and give you confidence in the deliverables produced for your projects.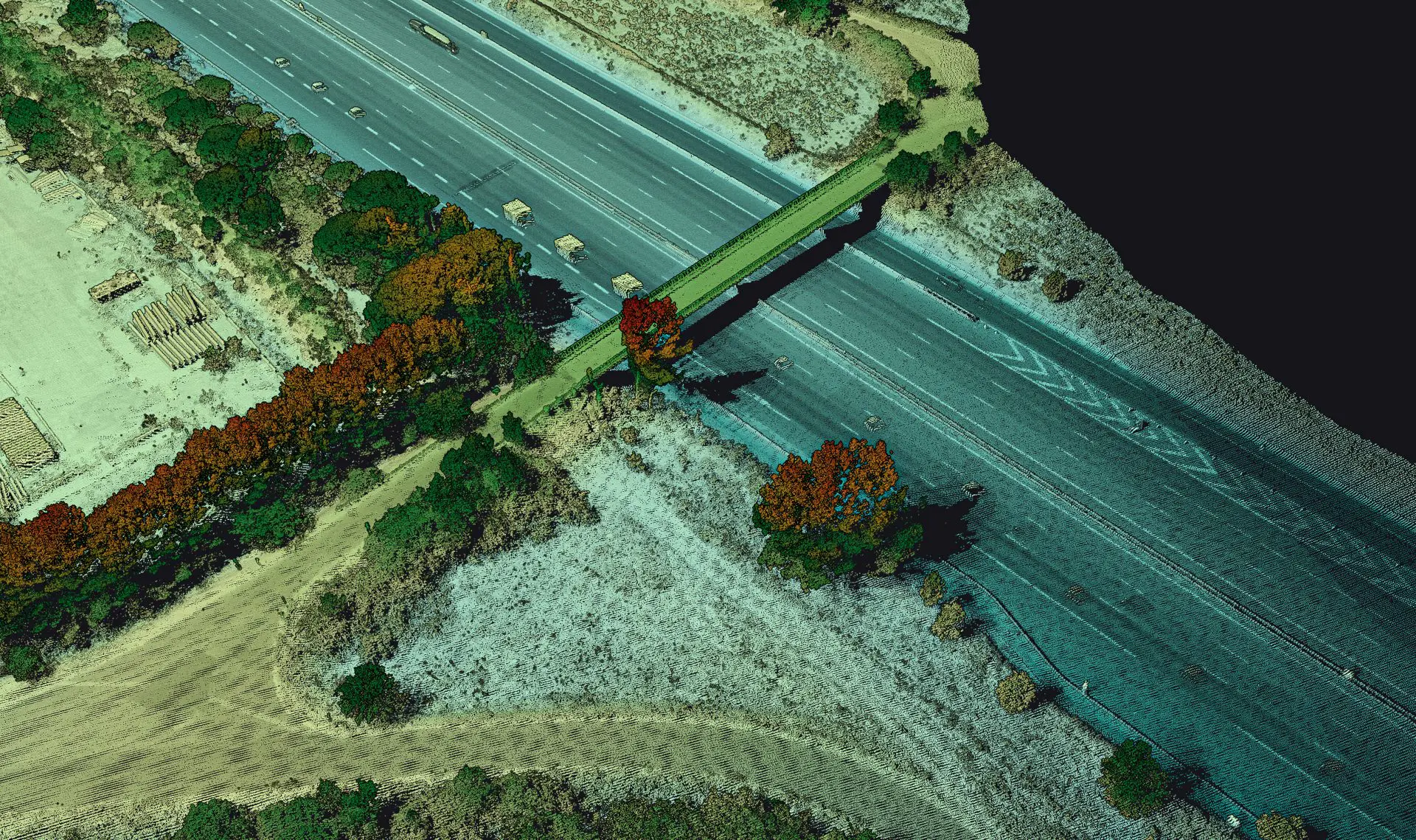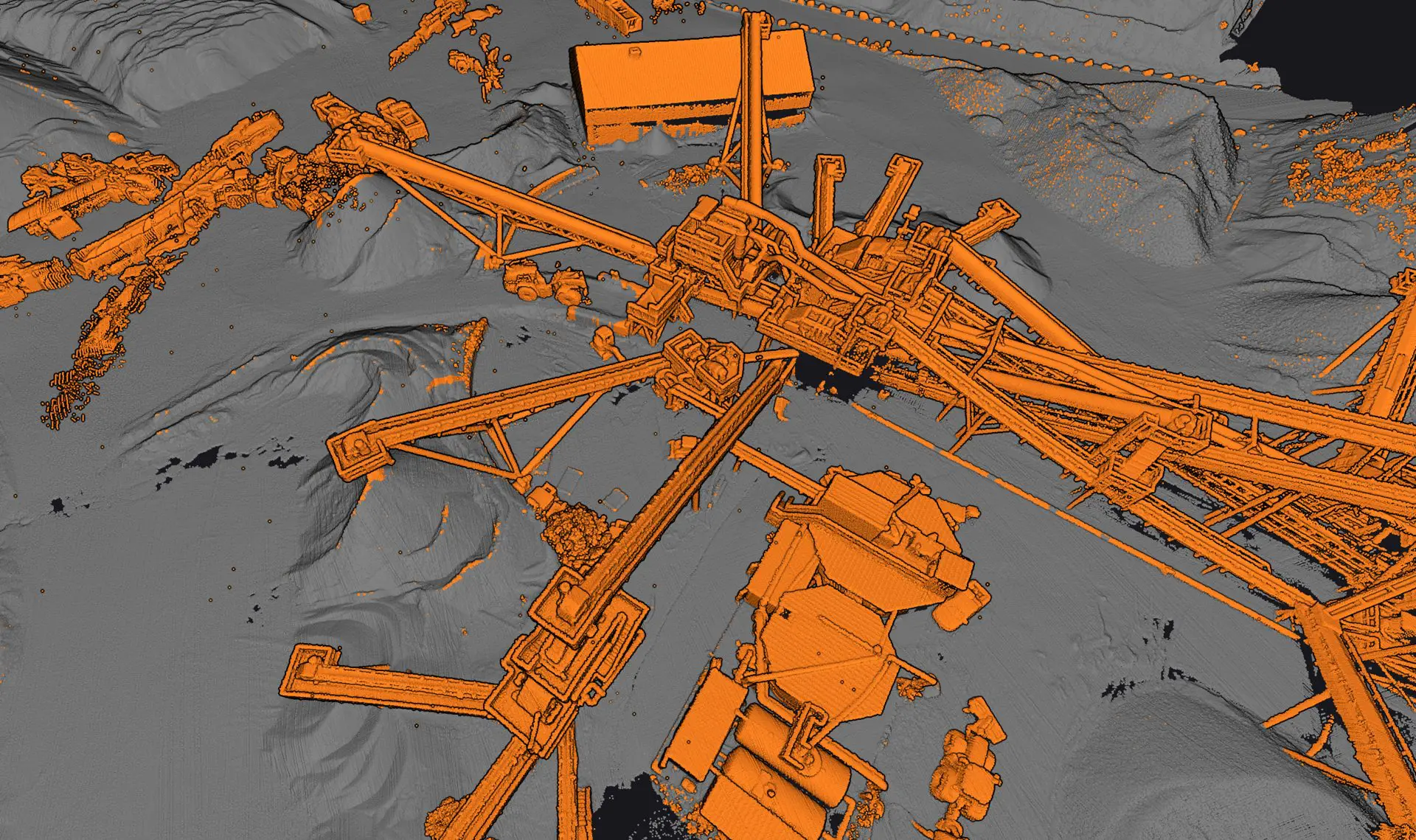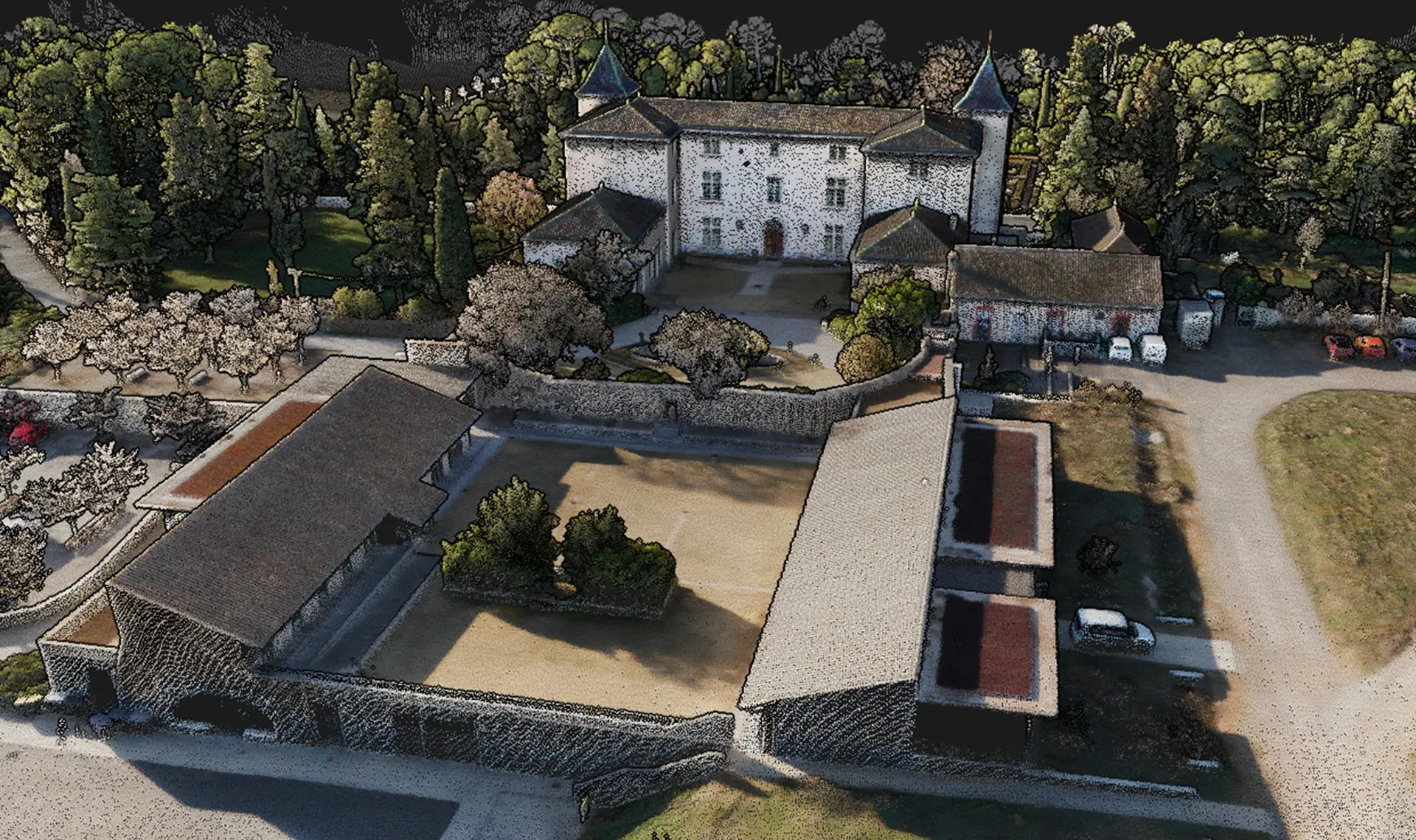 Partners
The Explorer is the result of years of research that YellowScan has gathered by working with its customers and partners around the world.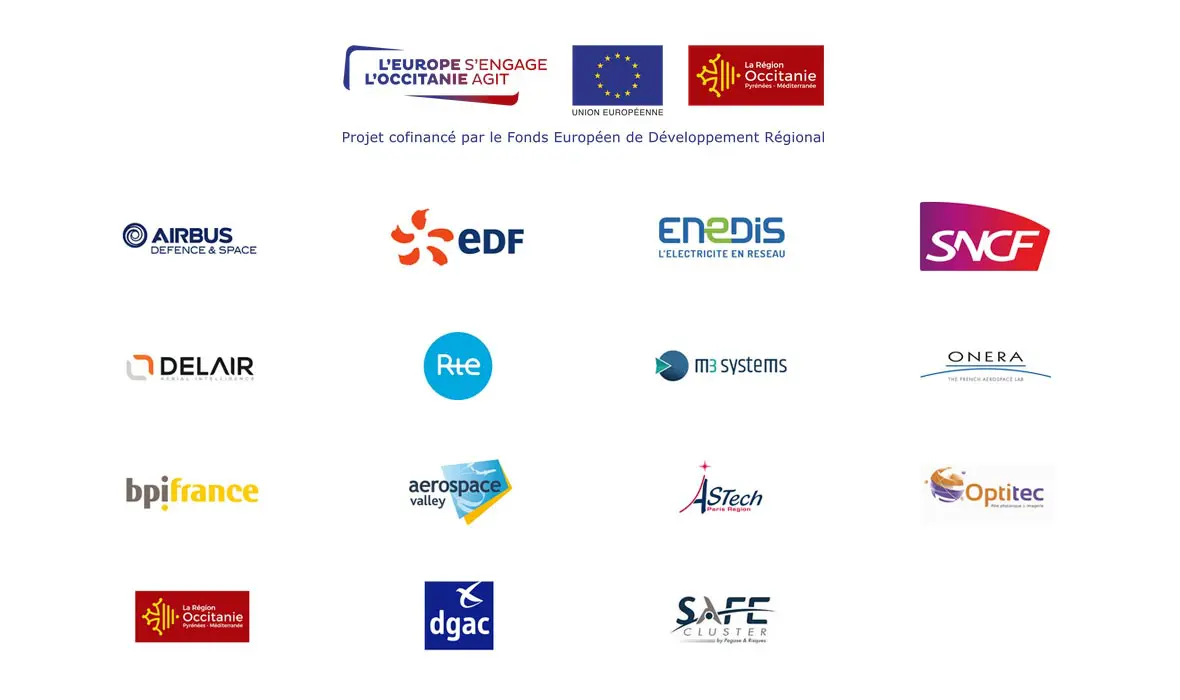 Data generation in a few clicks
Handle your pointclouds with our own, all-in-one software solution. Extract, process, and display data immediately after flight acquisition.
Testimonials
They did it !
Given the Explorer's 5 echo capability it can easily penetrate the vegetation to recover the ground and generate the terrain profile, allowing the production of an accurate DTM thus giving the archaeologists a new set of mapping tools for their project.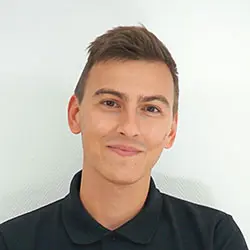 Benjamin Pradel
Pilot & Aerial Survey Project Manager
L'Avion Jaune
France
Equipped with :
YellowScan Explorer
In 2017, YellowScan took part in a research project called FRELON ("French long range lidar"), funded by the European Regional Development Fund. The goal was to develop a new standard for long-range LiDAR by bringing together innovative specialists.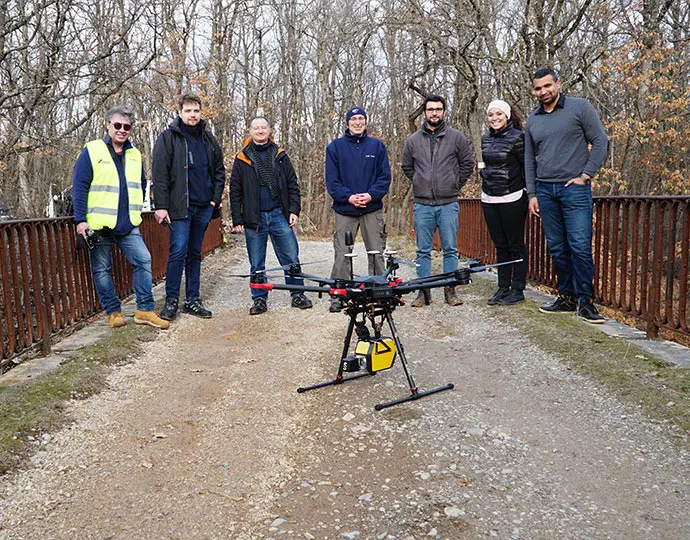 YellowScan collaborated directly with Airbus Defense and Space, UAV manufacturer Delair, M3 Systems and utility end-users EDF, RTE, Enedis and SNCF to develop the next generation solution to meet their requirements.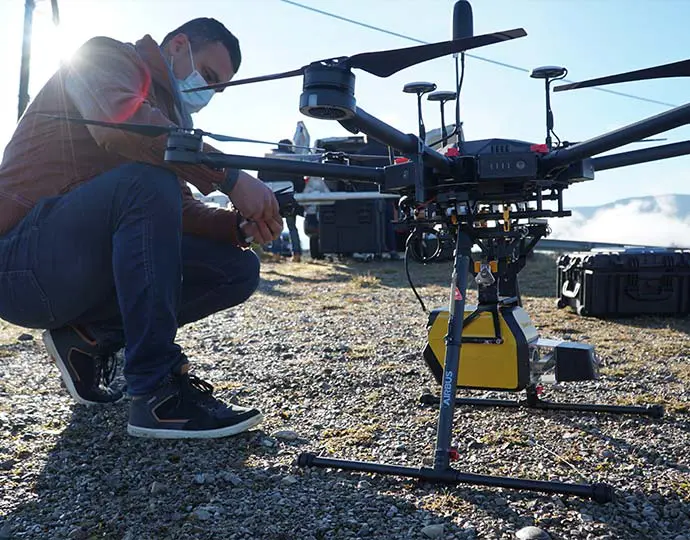 Advanced calibration
All our systems are calibrated before shipment and come with a calibration certificate. Be ready to fly your system as soon as you receive it!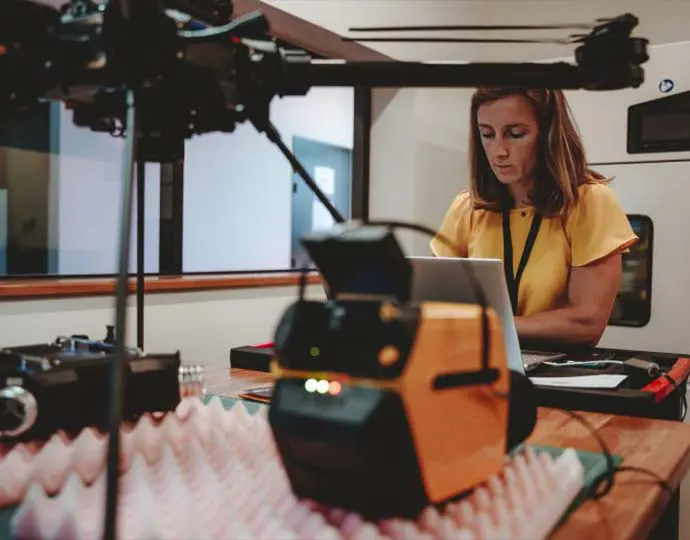 On-site training
YellowScan delivers complete training to new customers. The training is provided over 2 days and can take place at your premises or online.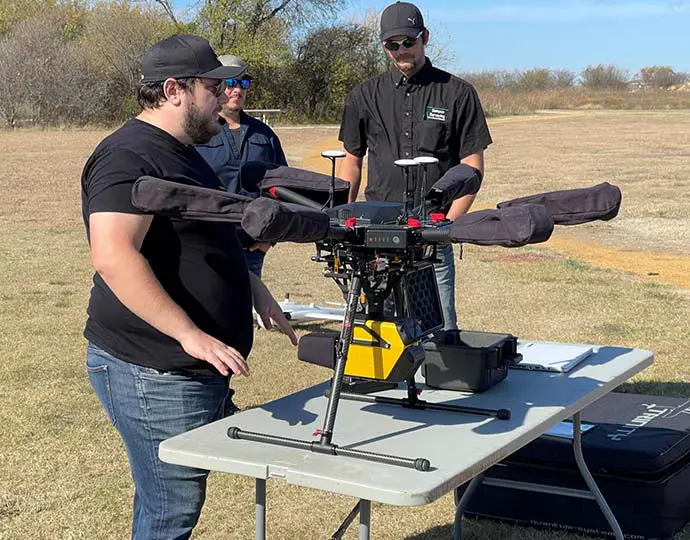 Technical support
Our 1 year unlimited technical support from our experts enables you to confidently undertake your projects, whether you are new or experienced in the field.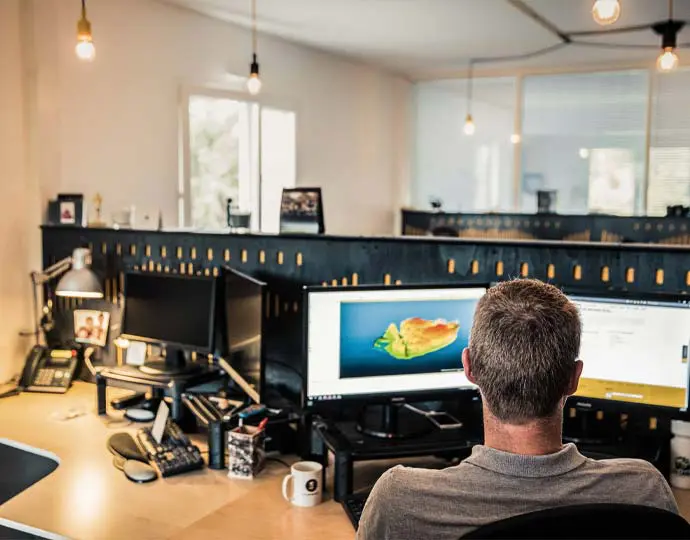 A one-of-a-kind laser scanner
We developed a unique laser scanner that met specific requirements and that could not be found in any other systems. You can select the right scanner parameter for each of your missions with the possibility to switch the laser PRF.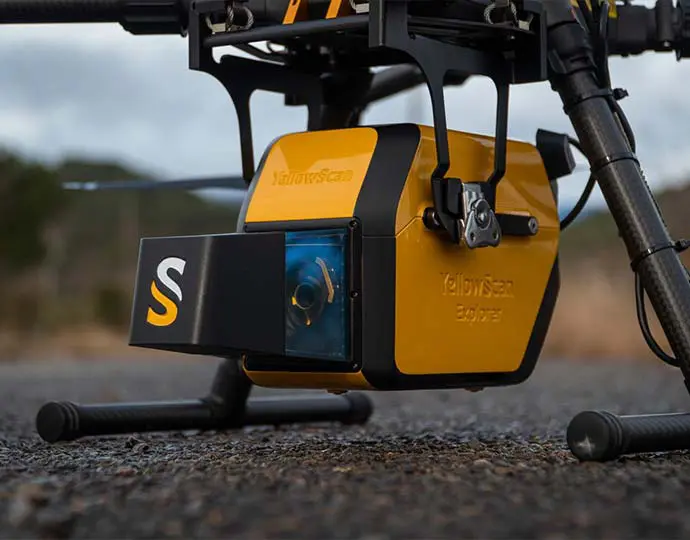 When flight speed is not an issue
Flight operation speed can go from 5 to 35 m/s with a flying height of up to 300m. Depending on the aircraft it's mounted on; limited flight speed is no longer a constraint to capture data.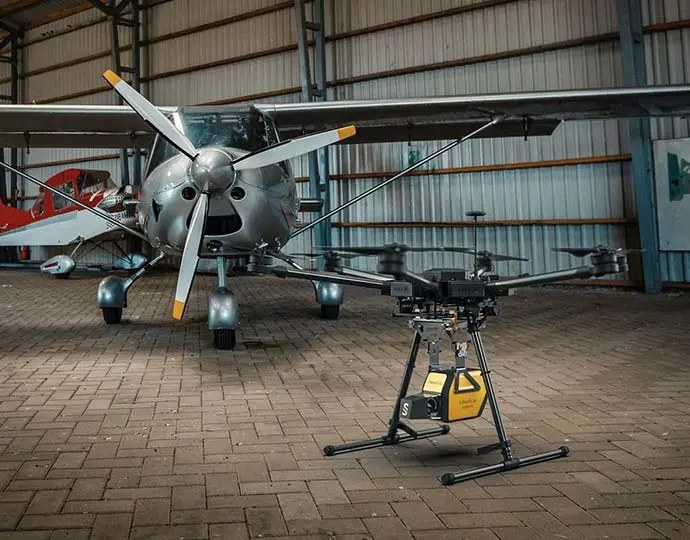 Fly high without compromising on data quality
Collecting data from a longer range will allow you to cover more area per flight and enable you to create and maintain digital twins of your assets and project sites.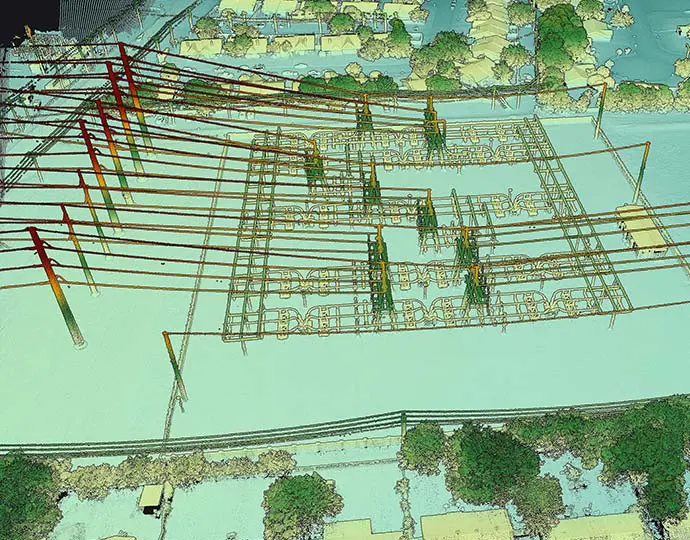 Optimal vegetation penetration
Its detection and processing of up to five target echoes per laser pulse will provide you with optimal vegetation penetration.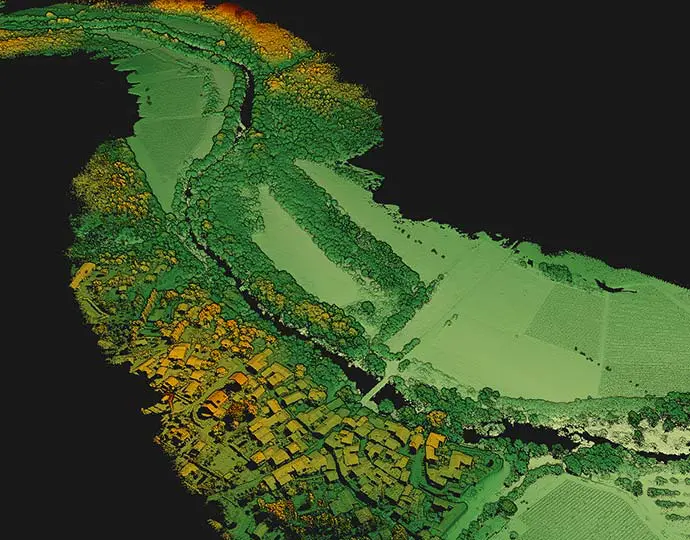 Collect LiDAR and RGB data
The YellowScan Explorer is compatible with optional camera modules.